Your subscription could not be saved. Please try again.
Your subscription to raagabox has been successful.
Govind Moonis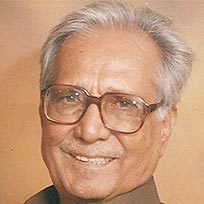 '
Govind Moonis was a veteran film writer and director, popularly known for his work in the Hindi and Bhojpuri film industry. He rose to prominence for his work as a dialogue writer for films like Chalti Ka Naam Gaadi (1958), Dosti (1964) and Raat Aur Din (1967). He then established himself as a successful director with Nadiya Ke Paar (1982), Babul (1986) and Bandhan Bahon Ka (1988). The writer-director was also a recipient of The Filmfare Award for Best Dialogue for Dosti. The veteran director was associated with the film industry for around six decades. He passed away on May 5 2010, after suffering from prolonged illness. Early Life : Govind was born in Pasakhera village in Uttar Pradesh to Pt. Shriram Dwivedi. He completed his education in Kanpur. As a Writer : Govind's first tasted success in 1947 after his short story was published in the print publication Dainik Veerbhara. He took this further by writing several short stories and translations from Bengali publications, which were published in reputed newspapers and publications. In 1952, he met Bengali director Ritwik Ghatak and assisted him in his first film Bedeni, but unfortunately the movie could not be completed. In 1977, Govind again collaborated withRitwik Ghatak as the lyricist for his film Nagarik. The plot of the film revolves around Ramu, who is looking for a job in Kolkata. In 1953, Govind shifted his base to Mumbai where he assisted late film director Satyen Bose. The lyricist collaborated with Satyen in almost all the films directed by him. In 1958, he worked as a dialogue writer in Chalti Ka Naam Gaadi. He was the dialogue and screenplay writer for the 1964 film Dosti, and later got together with Satyen for Aasra (1966) to assist him as a dialogue writer. Govind followed this up by writing dialogues for the film Raat Aur Din starring Nargis andPradeep Kumar. For her performance in the film, Nargis Won the National Filmfare Award for Best Film. Similarly in 1969, Govind assisted director Satyen as a lyricist for Aansoo Ban Gaye Phool (1969) and as a dialogue writer for Jeevan Mrityu (1971). As a Director : Besides writing dialogues for films, Govind has also directed movies. In 1954, Govind worked as an assistant director for Jagriti, which revolves around a rich kid who is sent to boarding school by his grandfather to learn some values. In 1982, Govind directed Nadiya Ke Paar starring Sachin, Sadhana Singh, Inder Thakur, Mitali, Savita Bajaj, Sheela David, Leela Mishra and Soni Rathod. The film was later remade as Hum Aapke Hain Koun..! by Rajshri Productions, which was one of the biggest grosser films in the history of Indian cinema. In 1986, he directed a documentary film titled Rimjhim Geeton Ki starring Madhuri Dixit,Dharmendra and Mithun Chakraborty. He also worked on Babul (1986), with a plot that revolves around two lovers Nandini and Ashok, who are unable to get married as Ashok"s father has fixed his marriage elsewhere. Two years later, Govind directed Bandhan Baahon Ka (1988), which starred Brahmachari, Rita Katyal and Raj Kiran. Television Career : Govind Moonis has also been associated with the television Industry. He started his television career by writing a screenplay for a television series titled Don that aired on Doordarshan. He also wrote the screenplay for Zee TV"s show Do Akele and for Star TV"s Ramleela.
,
hindi